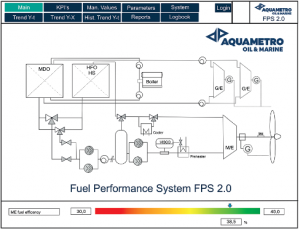 Fleet Management /Fuel Efficiency
Fuel Monitoring Ship / Fleet Management / Fuel Efficiency
CO2 Reporting (MRV); Measure, Monitor and Notify
The Fuel Performance System (FPS 2.0) is an open PLC-web based system to record signals, which are important to enable full transparency of all fuel and performance parameters of ship operation process. With fuel flow meters CONTOIL® sensors, shaft power meter SPM and additional data from ship automation the fuel consumption and fuel efficiency data can be acquired and stored for further analysis and reporting (CO2 reporting MRV).
Features:
Web based visualization and reporting
Data collection
Trend curves
KPI analysis
Plausibility check
Monitoring and reporting
Fuel transparency and optimization
Customizable monitoring systems
 Benefits:
In the office: Web access for fleet management
On the bridge : Performance and monitoring management
In the ECR : Performance and monitoring of all data calculated KPI's
FUNCTION
PLC based fuel monitoring and performance system FPS expandable for all available datapoints and interfaces.
Open system for pre-configuration of the real ship operation system on board (engines [ME's / AE's], boilers, shaft generators).
Supports multiple engines, bunkers and engines parameters on board.
Web portal for on board / on shore.
Real time monitoring of fuel consumptions and all implemented parameter, KPI's on shore.
Performance charts and reports are available and free configurable.
Data storage and data history visualization.
Communication mode to on shore server for notification, database as well as report updates.
Minimum human intervention is required.
Trip reports, CO2 reports and noon to noon reports can be generated, stored and transferred to shore.

Clear indication of fuel efficiency, total fuel consumption and CO2 emission for a particular trip.
Fleet monitoring on shore based on available server database and reports (PC or mobile devices).

Submit requests for immediate position of the vessel and the total fuel consumption since the last report.
View the tracking history including events that took place on this fleet.
Contact
Advanced Marine Solutions Hellas today to learn more and speak with our experienced staff about all your company's needs.
---