Beneficial Advantages of our System:
Protects from Costly Downtime.

Operating 24/7 online with possible remote http. connectivity.

Real Time Engine Tuning.

Cost Savings on Parts and Labor, Replacement of Parts is based on need and not on Time Intervals.

Engine Efficiency is increased by the use of thorough Information and Evaluation of your Engines Timing as well as the Performance of your Fuel Pumps and Injectors.

Balances Output, Extends Engine Life and Increases performance.

Power output readings at preset intervals

Assists in reducing Emissions to be Environmentally Compliant.

Expanded Version includes Vessel Performance Monitoring and reporting

Small Measurement Files for quick transfer to home office via e-mail

Data Export to CSV files

ISO correction of readings

Comprehensive Technical Support
Our Multi Sensor System will provide the following readings:
Performance Data

P – A, P – V, Light – Spring Diagrams

P (i), p (ind), p (ign), p(comp), p(max), p (exp)

RPM, A( ign), A (max),

Lambda, W, ℓ, VIT, a (pmp), a (opn), a (inj), l (ing)

Expanded Version Additional Vessel Performance Data

Vessel Speed (Knots)

SFOC (g/Kw.h)

SFOC (Kg/Mile)

FC (m3/h)

Eff. Power (KW)

Fuel Density (kg/m3)

Fuel Temperature (0C)
Additional Features: Records at 1 to 24 hours, Monthly files, Bar plots, Trends, Charts, Reports, etc.
System Description:
The Multisensor EMS is an advanced cylinder pressure and acoustic emission based injection timing monitoring system.

  

The system incorporates sensors and flywheel pickups of ultimate quality.

 

It is designed for use on all types of two or four stroke slow, medium or high speed engines

 

(even V-type engines).

 

Our expanded version can be used as a Vessel performance Monitoring System by retrieving data from Speed log, Flow Meters, Temperature probes etc.

 

It runs under any Windows including 2000, XP & newer.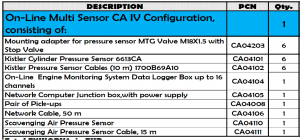 Optionally:
We can provide Electronic Flow meters that provide mass readings made by AQUAMETRO. 
They provide accurate Fuel readings in kg (T/H), ltr (M3/H), as well as Fuel Temperature.

 

Terms and Conditions

 
Warranty:

12 months after delivery against defects for Systems delivered and commissioned by AMS,

 

12 months after delivery against defects of parts only for Systems not commissioned by AMS.

 
---
Contact Advanced Marine Solutions Hellas today to learn more and speak with our experienced staff about all your company's needs