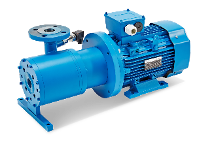 A dynamic milling machine to be used in the fuel system on board ships.
The Homogenizer Unit is usually installed in fuel and/or tank circulating system and is designed and solely intended for improving the fuel quality.
It is designed to improve your fuel quality which will lead to a better combustion and less maintenance. Furthermore, it can reduce sludge in case of fuel incompatibility. Specifically, it serves for:
stable fuel conditions in storage, settling, or service tanks

treat sludge, or waste oil

stable long-term blended fuel

increase of the amount of burnable fuel, in case of bad fuel quality.

high saving potential
It is suitable for all type of vessels with 2 and 4 stroke main engine in dual fuel operation (HFO/MDO/new type of fuel oil acc. Sulphur cap), e. g. tankers, LNG, container, bulkers, cruise vessels.
Features:
Continuous homogenizing by shearing of asphaltene clusters

Pure mechanical & no chemical treatment

Continuous generation of water in fuel emulsion

Sludge treatment on board

Fuel treatment in fuel circulating system reduce sludge of fuel incompatibility
Benefits:
Reduces sludge through waste oil treatment

Avoid fuel incompatibility in circulating system

Fuel treatment, conditioning and harmonizing

Maximizes the amount of burnable fuel

Increases fuel quality for optimized combustion

Less wear and tear on engine components
Components:
Homogenizer

Feed pump

Piping

Inlet strainer

In-/outlet ball valve

Flow switch, and

Control cabinet
Specifications:
Complete mounted unit on frame with workshop certificate

Capacity according to specifications

Max 15bar; max. 150°C (oil temp.); flange: DIN2633

Control cabinet included as individual part

Power supply: 400/460V; 50/60Hz
---
Contact Advanced Marine Solutions Hellas today to learn more and speak with our experienced staff about all your company's needs.
---
7600e_homogenizer