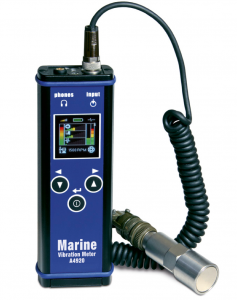 This powerful Expert system provides on the spot useable results without the need to send the information on shore for evaluation, even beginners can use these results right away without any training or knowledge about vibration analysis.
Acceleration and velocity RMS values can be taken and stored and allow users a precise trending of the condition of a machine. The device offers additionally an integrated IR temperature probe, a stroboscope and flash light which are valuable tools for the day to day work.
As part of the delivery our customers get the powerful data diagnostic software for storage and evaluation of vibration and technical data. Collecting data with the integrated Route function has never been easier. The software allows trending and a deeper analysis on site or at remote locations. The software allows engineers to plan measurement routes and upload these to the device so that every crew member is able to collect the data.
With the purchase of the Vibration Meter Marine you get everything you need to start right away.
Scope of delivery includes:
the device

acceleration sensor

software and accessories
all in a small rugged case for storage in between usage. Optional high quality headphones are available for the acoustic evaluation of the bearings. Using the headphones an experienced user is able to spot problems in seconds.
Benefits:
Specifically made for the needs and challenges of the Marine industry

Easy & fast trending

Quick diagnosis of the machines condition via a simple traffic light system

Optional route measurements with free supplied software customized for the marine sector

Easy to understand, easy to use

All results obtained can be directly used and understood by the user on board.

Set the measuring limits according to the specific of your machinery
---
Contact Advanced Marine Solutions Hellas today to learn more and speak with our experienced staff about all your company's needs.
---
CMT Vibration Meter Marine